Lamp Lighters World Ministries
Dear fellow laborer in Christ,
We're back home from the Netherlands but, only for a few more days as we leave for Sri Lanka on Thursday June 4th.
We have mixed emotions as always when we get ready to leave here just as we do when we leave there to come to the States. It's always a bitter-sweet day. We don't want to leave family and friends here but are anxious to return to see family and friends there.
We know that is where God wants us to labor for the time being and we have no trouble at all in seeing what needs to be done usually it's more of where to start first.
You may have seen Sri Lanka in the news especially of late with the governments declaration of the end of the civil war and the death of the LTTE leader Prabakaran, but everything is far from over and the issues that started the war are still unresolved.
Several people have asked us our opinion of the news reports but honestly we just don't know what to think as no independent reports or confirmation is getting out. All the news comes only from the government sources only and sometimes they are not trust worthy. And most Tamil websites are filled with speculation and rumor as well.
Regardless of what the situation is or what the future holds there is ministry work to be done and we're willing to go and be involved in it. We strive to glorify God in what we do in ministry and to labor faithfully in the harvest.
We are always reminded to pray for you, our supporters, each day for the blessing you are to us in prayer and finances. We thank God for the partnership we have together with you. God is using you to enable us to share the truth of Jesus Christ in a country that desperately needs to hear about Him.
We ask that God will continue to use you and bless you as labor for Him in your own ministry as well.
Yours in Christ, Steve and Shanthi

NETHERLANDS TRIP A SUCCESS
We had a wonderful time in the Netherlands and in Belgium working with the Sri Lankan churches started by Shanthi's brother in law and sister. It was somewhat tiring as well but worth the effort!
Each week we had 3-4 days where we were able to rest and do a little sightseeing then the weekends were hectic! We would have 3-5 meetings from Friday night through Sunday night. Many of these are in different towns anywhere from a 1 ½ to 2 ½ hour drive from Arnhem where Nijen and Jeythini live, (Shanthi's brother in law and sister).
None of these Sri Lankan churches have their own buildings but meet in other churches buildings, store front buildings, school buildings and homes.
The evening Bible studies usually start at 7 PM and last for 2 to 2 ½ hours then we would drive home and eat dinner after our arrival. Sunday services last from 3 to 3 ½ hours. Needless to say by the time Monday rolled around we were ready for some rest. A couple of times we had midweek services as well but it was worth it all.
Though we didn't see any baptisms we did have several in almost every service who would step forward and recommit themselves and some shared testimonies as to how the Word we shared with them made a difference in their lives. Not that my messages are that powerful but because the word of God is powerful and it had an impact on them!
One gentleman's testimony in particular helped us know we were getting through to the people. His testimony was that here he was a Sri Lankan who had left his home country only to get a better life for himself. Here was an American who left his own country to go to Sri Lanka and put up with the discomforts and problems of living there in order to share the Gospel. He went on to say that he now feels God is calling him to return to Sri Lanka and get involved in the ministry of sharing Christ with those lost and outside of Christ.
Most of the Sri Lankans in the Netherlands are from the north where the war has been the worst for the last year. Many still have family in the war zone and some had no idea about their families' condition or whereabouts if they were still living or had been killed in the bombing that had taken place.
The churches are growing slowly and we went to two new cities and had meetings there. These were further north than we had ever been before so we saw another new area of the Netherlands.
I guess the best testimony was how the people shared with us in financial gifts. In the past they have always given us financial gifts to be used in the ministry but this time the people gave enough to almost cover the cost of our plane tickets, a real blessing to us!
Many of those who gave were unemployed and living on a small government welfare check and could not afford to give us an offering but they did anyway, trusting God would provide for them!
Everyone was asking us to stay longer or to come back soon and stay there to do ministry. We hope that we will be able to return there soon and continue ministering to the people.
Pray with us for the Christians there to reach out to others including the Dutch people with the message of Jesus.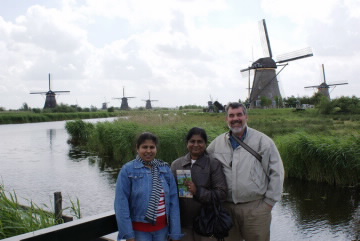 Steve, Shanthi, Jeythini, Shanthi's sister

NEW ADDITIONS IN SRI LANKA
We haven't heard for sure yet but our preacher in Onthachimadam, Asirvatham and wife Grace were to have a new baby this week.
We got confirmation she was in the hospital while we were still in the Netherlands. Ladies are admitted a few days before their delivery date because travel to hospitals is usually long and difficult and they would never reach it in time if they waited until they actually go into labor.
Also our worship leader, Jeeva, who helps oversee, train and lead worship in all our churches has just delivered a baby boy. They named him Hezekiah. He joins Hannah, Hasmuth, Hahmi and Hahni.
They are doing well although Jeeva is still having some pain as she also had a large fibroid tumor removed at the same time. Please pray she will recover soon and be able to return to the work of ministry.
Please pray for a safe delivery and healthy baby.

PERIYANEELAVANAI CONSTRUTION PROJECT BEGUN
We had sent word to Vijay the preacher to move the block making machine from Mahiloor to the church property in Periyaneelavanai.
They have done this and hopefully they have begun making blocks in anticipation of beginning the new building when we return.
The building needs replaced as it is in bad condition and the temporary enlargement and repairs of the old building won't be sufficient as the church continues to grow.

PRAYER REQUESTS
1. Safety for our travel and stay in Sri Lanka.
2. Those displaced by the war in the north about 250,000 are living in refugee camps.
3. Churches to continue to grow, members to be faithful.
4. For us to see clearly what God would have us do during this stay in Sri Lanka.
5. Christians in the Netherlands and Belgium to continue to grow and reach out with the Gospel.