JANUARY | FEBRUARY | MARCH | APRIL | MAY | JUNE | JULY
AUGUST | OCTOBER | NOVEMBER
archive NEWS:
2020 | 2019 | 2018 | 2017 | 2016 | 2015
2014 | 2013 | 2012 | 2011 | 2010
2009 | 2008 | 2007 | 2006 | 2005
DECEMBER 2013
Dear Brothers and Sisters in Christ,
We pray that you had a wonderful season of Thanksgiving, and that your thanks don't stop even though the day has passed. Here we really don't do much as far as Thanksgiving "day" as this is not a holiday here. We did have some special foods but no turkey or dressing. I thought about trying to roast a chicken but gave that up due to time restraints. Now we are looking forward to the Christmas season and all the programs in the churches and schools. Actually we have already attended one school program with three more to go. All the church programs start in the middle of the month which pretty much fills our December schedule.
One thing we hope you never forget is how vital you are to this ministry through prayers. We are constantly being bombarded by Satan and his demons in every way. No sooner is one thing resolved than something else comes up. So we do covet your prayers for us and the ministry.
We also thank you for your love gifts. As Christmas season comes we thank God for the greatest gift of all, salvation through his son Jesus Christ! We rejoice along with you during this special season of the year.
May God continue to use and bless you as you labor for his glory wherever you are.
Christmas Wishes to You,
Steve and Shanthi
POSSIBLE MARRIAGE
We've mentioned to you the three girls who work with us in ministry and specifically the need for them to find good husbands who will serve God in ministry along with them. This is a real challenge as Christian young women outnumber Christian young men about five to one. And when you add the need for the young men to be ministry workers it makes it even more difficult when thinking about marriage.
God has been at work in this and we may have found a husband for Shanthy (not my Shanthi, she already has a husband). They have met each other, and the young man has met her parents, who seem somewhat reluctant but at least not opposed to a marriage. The parent's fear is because of Shanthy's health issues he will eventually abandon her. Shanthy was born without a thyroid gland, and if she is not careful she has epileptic seizures even though she takes daily medication for them. Please pray that God will continue to work through all these issues and that this marriage can go forward.
BAPTISMS
I failed to report that in October there were several baptisms. There were six in Periya Neelavanai and one in Periya Kallar. We're rejoicing over these new brothers and sisters in Christ. One young man in particular I'll briefly share about. His life was literally a wreck--no job, and alcohol and drug abuse was destroying his marriage and his health. Vijay our preacher had met him and began sharing the word of God with him. He began coming to church and came to the conclusion that Jesus was the only answer for his messed up life. He gave his life to Christ and was baptized, and he and his family came for the family camp. During camp he made a decision that he wants to serve God in ministry. I don't know for sure where that will lead but we're praising God for the new life he has given this young man!
NEW GEMS GROUP
"GEMS" is the name we use for our discipleship training classes. We already had started two groups, one in Mahiloor and one in Periya Neelavanai. And this past month we started a third group in Periya Kallar. There were ten who came for the first training session, and all seemed anxious to learn more of the Word of God and how they can better serve Him. The goal of these classes is to get people more involved in their local church ministry and in witnessing for Christ. We have seen positive changes in the other groups and people are getting more involved in ministry work. Our family camp also helped get more people to come to the GEMS classes so we praise God for how He continues to mature the people through his word.
ADOPTION PROCESS
We finally had our day in court (for the fourth time as it turns out), but it is almost finished. The judge ruled that we could adopt Prashanth and Tharshini! All that is lacking at least in Sri Lanka is the order to be typed and signed by the judge. It will then be sent to Colombo where it will be recorded, and we will have to go there to sign documents at that time. Then they will send new birth certificates to our local court house where we can pick them up. Hopefully this won't take too long!
We were in Colombo a week ago and went to the embassy to discuss everything we need to do for U.S. recognition of the adoption. After an hour of talking we were told that once we get the birth certificates we should be able to file for immigrant visas for them as immediate relatives (an I -30 form). And since they are children we have adopted it should be done in a matter of months. This is definitely a time and money saver! The only problem is we were planning to return to the States in April and the embassy said it would take six to eight months, and possibly as long as a year to complete the paperwork. So we need more prayers that God will work all things out so we can bring the kids home with us in April. We serve a God who does the impossible and this is one of those occasions where it is impossible for us to do anything but file papers and wait.
Thanks to all of you who have been praying for us and the adoption process. Please keep praying that everything will work out (and quickly).

BUSY TIME OF YEAR
I mentioned earlier all the Christmas programs we will be involved in. Please don't misunderstand and think I'm complaining about that. I love Christmas and the joy of the season as we celebrate Christ's birth! I know that it's the same for you--too many things to do in much too short of time. Just don't let the "busyness" cause you to forget why we celebrate!
PRAYER CONCERNS
The new brothers and sisters to remain faithful and grow in their new found life of faith.

The Christmas programs to be outreach times for our preachers to get into the homes of the families who allow their children to come for Sunday school.

The adoption process to be completed here and that we can file the I – 30 form, and that God would intervene and accomplish this in less time than the embassy says it will take.

The GEMS program to continue to grow in all the churches.

Praise that we may have a husband for Shanthy, one of the girls who works with us in our ministry.
NOVEMBER 2013
Dear Brothers and Sisters in Christ,
Another month has flown past, where does the time go? Lots of things have happened this month so that seemed to make the time go even more quickly.
We're just coming into our rainy season so we have had some welcome rains a few times. It helps to cool things off and we don't have to water our yard plants as often. In another month we'll be in monsoon season (not looking forward to that). We must have the rain but the torrents do make life more difficult at the same time. This reminds me of a song (actually several songs) that have been written about "rain". Without the rains nothing would grow. We all encounter problems and trials in our lives but with God's help we will not only endure but grow through them. We can always count on Jesus to give us deliverance or strength for every circumstance we face (John 16:33). How many times do we complain about trials we are facing, or question God about the "rain" in our lives, but fail to see the opportunity to grow through them.
We thank you for your faithful prayers for us this last month, especially with all that was going on. We are so grateful for prayers that strengthen us! We also thank you for the financial support God provides through you for this ministry. We are blessed to be able to count you as our partners in what God is doing here.
May God continue to bless and direct you as we all labor for his glory and kingdom!
In His love,
Steve & Shanthi
ADOPTION PROCESS
We had the court hearing on October 3rd and it was both good and bad. The biological father was there (we had to be certain he attended, so we sent Vijay our oldest to bring him), and everyone was prepared, or so we thought. The problem came with the probation officer's report. The judge was not satisfied because the officer had not given enough documented proof for the court records that we could care for the children. He had also inserted his personal opinion in the report, which he should not have done. So the judge had to give a new court date to finalize the adoption which has now been postponed until November 7th.
The good part was the judge spoke to us in English, and he told us that his concern was for the best interest for the children's future and care, and that he was convinced that giving court approval for the adoption was definitely in their best interest. So with that he apologized to us for having to make another court date, but we feel everything is a go! We're very happy and praising God for this! Please keep this new date in your prayers (which will be the night of November 6th for you).
FAMILY CAMP
Our camp days were busy ones and from our view point it went very well. We had 248 people, adults through babies, from our churches in attendance. One nice thing was no tsunami warning like last year when the busses were traveling along the coastal highway!
Our theme was "One body in Christ", and focused on fellowship, love, forgiveness, and unity. We've gotten responses from people and almost everything was positive. They said they especially enjoyed the messages in the main sessions. I preached twice and our brother-in-law, Rajendram, as the guest speaker, preached four times. Along with this there were daily devotions, both personal and group, and workshops on how to implement the things the families were learning. When forgiveness was taught it really pricked a lot of hearts, even among our preachers, who went to make things right once again with some of the believers, and people gave testimonies during camp of their forgiving others and asking for forgiveness.
We had "about" 25 people who made decisions (don't have the exact number yet as some of our preachers are a little slow getting information to us). These were all people who say they want to really get involved in the work of the church. Overall we were very pleased with how everything went and we're praising God for how he worked in the people's hearts.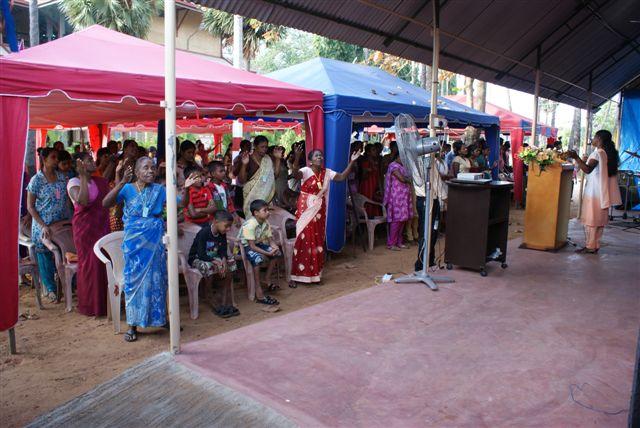 Main Session of Camp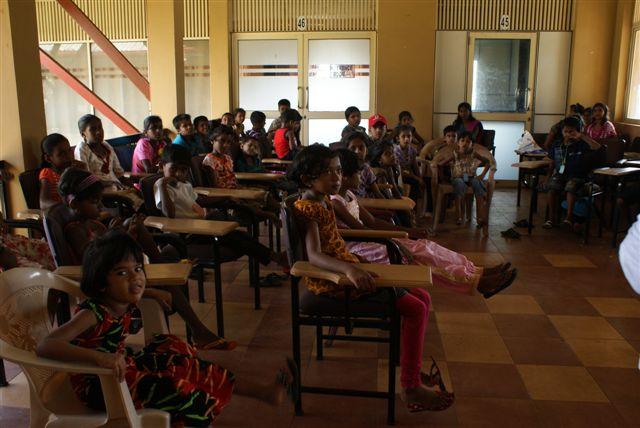 Children's Session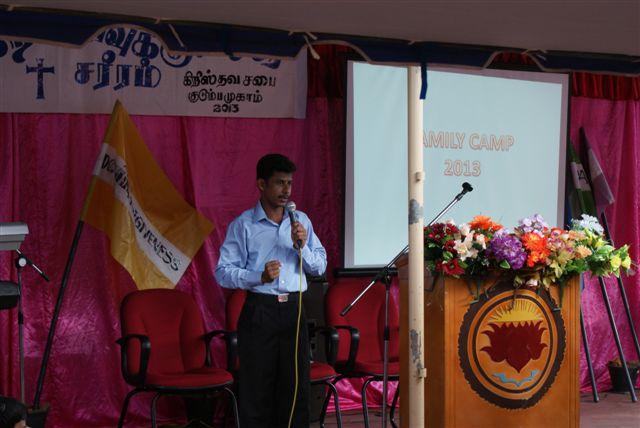 Selvakumar Teaching a Session
See More Photos of Family Camp
NIECE'S WEDDING
Our niece Sona, who has lived with us for several years, was married October 12th. This has been a long engagement due to her schooling and her fiancé's job location as well as many other things. Since she will be graduating in December they decided to go ahead and tie the knot. This brings up an interesting thought. In Sri Lanka the custom is for the groom to give a special gold necklace called a thali to the bride. In days past it was literally tied by knotting a string which runs through the gold chain, and it was not to be removed except at the death of the husband when the string was broken not untied. I don't know if we got the phrase, "tie the knot" from something similar, but it is a very fitting symbol of the covenant relationship of marriage and how death is the only thing which should break it. The wedding was nice and the bride was beautiful as always, and I was privileged to do the vows, rings and thali in the ceremony!
CHRISTMAS COMING SOON
It's that time of year and we're already getting ready for the programs in the churches. As in the years past we will be giving gifts to all the Sunday school children depending on the attendance records. This year we'll have more than in the past as there have been some new Sunday schools started. This is a real door opener for evangelism for the preachers so it is an important program for us.
We spend about $5-$6 per child for the gifts, which does not include the food at the program itself. If you would like to help financially with a Christmas gift for these programs please do so as soon as you possibly can so we can budget our funds accordingly.
NEW STAFF MEMBER
We have a young man who has joined with us in ministry. Kushaya is his name and he is the brother of Ananthy, our preacher's wife in Periya Neelavanai. Kushaya went to the local Bible school and has completed that training and is getting involved now in the work. He has begun in a new area, Porativu, another name you can add to the list that's difficult to say. He already has a Sunday school started and is also doing English tutoring several days each week to help gather kids and influence them for Christ.

PRAYER CONCERNS
Pray for those who made decisions at family camp and for the preachers to disciple them.

Pray for Kushaya as he begins his ministry with us.

For the adoption process to be completed on November 7th.

The Christmas programs to honor Christ and to draw entire families into the church.

Continued outreach and growth of the churches.
OCTOBER 2013
Brothers and Sisters in Christ,
Wish we were there to enjoy the fall season with you. For both Shanthi and I this is our favorite time of year. It is a reminder that seeds sown earlier bring the harvest which God provides. This is true physically and spiritually.
Seeds of truth from the Word of God will bring about a harvest of faith in our lives and also in the lives of others. We've just done some teaching here about the purpose of trees bearing fruit. While we enjoy eating the fruit, for the tree the purpose of fruit is to reproduce itself. Jesus said that this is proof that you are my disciples, and that "fruit-bearing" brings glory to God (John 15:8).
We pray that you are allowing God to work through your life and you are bringing glory to Him! One of the ways you do this is through your faithful prayers and gifts for this ministry. We are confident that God will bless you as you are a blessing to us.
With thanks to God for you all,
Steve & Shanthi
Church Exhibition at Periya Neelavanai
Our preacher Vijay and the members in his church held a three day exhibition which actually turned into a five day program. By American standards we would look at the simplicity of it and not think much of it (I admit that even I was guilty of this very attitude). They had prepared different displays of Bible events and Biblical characters using large props, pictures and scripture verses all made by people in the church, and church members were stationed in each location giving explanations. There was Adam and Eve in the garden (complete with a live monkey, a squirrel and a parrot), Jonah and the fish ("see through" fish with Jonah inside), the Tabernacle and pictures of priests, hand made books on shelves representing each book of the Bible, and concluded with Jesus on the cross and a very graphic depiction of heaven and hell, complete with a smoldering fire and smoke which really burned your eyes and nose. As the people left each received a tract sharing a short gospel message.
The response was unbelievable! Vijay said after about 2,000 people he stopped counting and he estimated between 3,000 – 3,500 came to see it. There were schools close by and others that hired buses from as far as 25 miles away that brought students to see the exhibition. Entire churches came, sometimes there were so many that there was literally no room for the people to move through. It was supposed to go from 3 pm to 6 pm but usually went until 10 pm.
Vijay also said lots of Hindus from around the church came to see what was going on. It is amazing how God can use something so simple (at least to our minds and way of doing things) to share his truth. We, along with Vijay and the church were thrilled with the response of the people. The church is already planning to do this next year, possibly in conjunction with their VBS. Pray that the seeds planted will grow into full faith in the lives of those who came!
School Wall Painting
We don't do as much social work as we used to do, but we felt this was another way to open people's hearts to the gospel. Most of the schools in the area have the walls along the road and the buildings themselves painted with pictures of all types to help the kids in their education. The local school where our kids go didn't have much in the way of pictures so we asked the principle if we could do this. He was thrilled and wanted our input as to what to paint.
We gave several ideas and included his ideas and those of other schools we had seen. Some are very serious issues of life: not using drugs, alcohol, smoking; some are practical things such as caring for the environment and personal hygiene; some are funny but we hope encouraging, and then some are the basic things they learn in school. We were even able to use some very godly words of wisdom from Proverbs which were painted on the walls at the principal's request, even though he is Hindu.
Every day the painters were there the kids were watching carefully to see what was going to be painted next. We have found that doing things to help kids makes an impact on their parents as they see we are truly concerned about their children, and not just in changing their religion. Pray that this simple act will have real impact on lives for the sake of the Kingdom.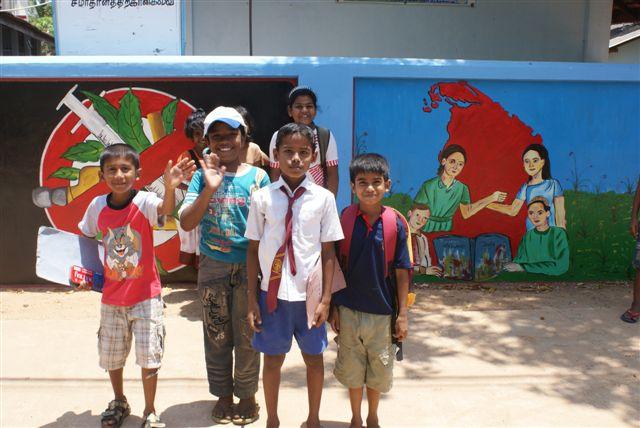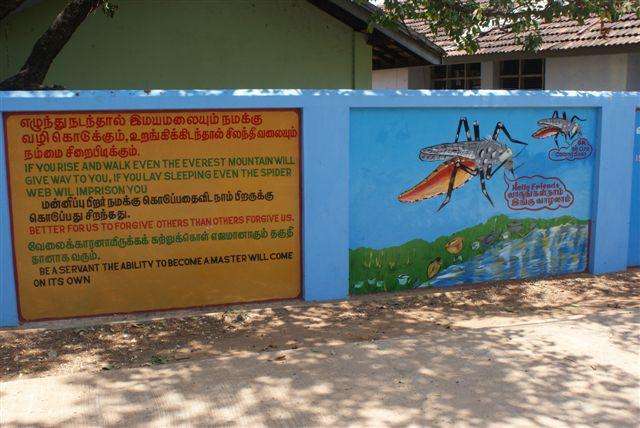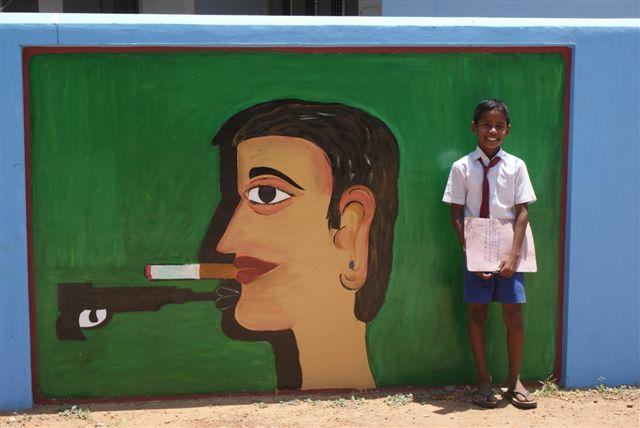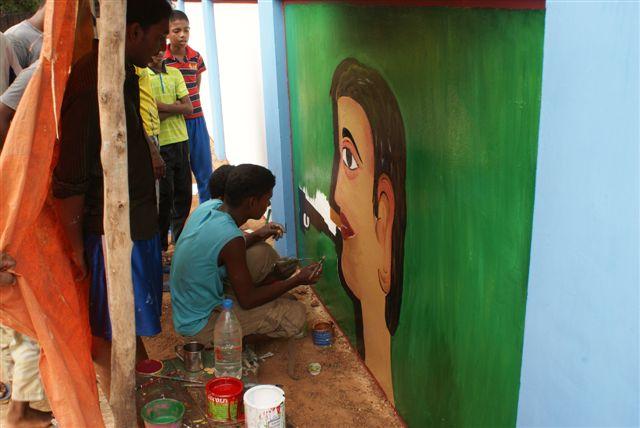 The Big Date is Here
Hopefully many of you will get this before it happens. We went to see the judge and set the date for the formal hearing on October 3 (which is October 2nd night for you in the States). We will be there, the biological father will be there, the probation officers will be there, so this could be finalized or close to it on that day!
We have included 13-year-old Tharshini in the adoption process. Even though she has some recollection of her parents she of all the girls is in most need of some extra guidance and help. This is due to the starvation state she was in when she came to us. So instead of one child we're trying to adopt two. The other three kids by law are now too old (anyone older than 14 cannot be adopted, go figure). Anyway please be praying for God's will and a good outcome for Prashanth and Tharshini.
Prayer Concerns
Praise for the great impact the exhibition in Periya Neelavanai had.

Prayers for the Family Camp October 16-18 and those speaking, leading workshops etc.

For the adoption process of Prashanth and Tharshini and the court date October 3rd.

More people to respond to the preaching and teaching of God's word.

Health and safety for us and our coworkers in the ministry.
(From Ron and Penny—Shanthi's birthday is November 1 if you would like to send a card or an email to celebrate with her!)
AUGUST 2013

Dear Brothers and Sisters in Christ,
Well from what I hear you're having some hot weather there, and now we are cooling off somewhat. In fact nights are cool enough we don't run our air conditioner which definitely helps the electric bill!
Our kids are on school term break during August so all are at home for the month. It took awhile for me to get used to their school year but I feel there are some advantages to doing it this way. It begins in January with term breaks and exams in April, August, and December. Being raised on a farm there was lots of summer time work to do when we weren't in school, but here it's quite different. By not having three summer months off in a row the kids don't get completely out of school study habits (and we don't have to try and find things for them to do either). Our kids did much better this term on their exams mainly due to a lot of prayer and Shanthi's working with them each afternoon and most evenings. I even did a little with them in their English. Thanks for your prayers for them also.
We want to thank you from our hearts for your concern for us and this ministry. It shows in the emails, cards with notes, and also the finances we receive. From watching the news we are aware of the situation in the States and all the financial concerns there. So we appreciate your faithfulness in this area also.
We pray for God to bless and use you there to his glory.
In Christ's Love,
Steve and Shanthi
VACATION BIBLE SCHOOL
We've spoken about our VBS programs in the past couple of newsletters and the time has finally arrived. A lot of work and preparation have been done but there is much more to do as well. All our preachers seem a little more excited this year than before. Hopefully it is because they are beginning to see results from past efforts and know a lot of good comes from the VBS programs.
We put a lot of emphasis on new contacts coming from VBS. If parents are willing to let their children come to the church for this then there is an opening to reach out to them with the gospel of Christ. The lessons are called "health signs," finding real fitness in Jesus and preparing ourselves to go to heaven.
We plan to get around to the programs and get some pictures for the next month's newsletter so you can see some of what was happening.
A COUPLE OF PRAISES
On the last Saturday of July Dene, our preacher at Mahiloor Nagapuram, had a special all day youth program. They had a small team from Youth for Christ come and do the program. We were all thrilled with the outcome. Out of the fifty-two youth who attended, eighteen were church members. The other thirty-four attendees were "first timers" in that they had never been to a youth program at the church before. However, most of these thirty-four were not unknown to us as they had been involved at one time or another in one of the satellite Sunday school programs. For various reasons they had lost interest, gotten busy with school work, parents did not allow them to come etc. This is one of the reasons we have our co-workers put a big emphasis on the children's programs in the churches. Seeds planted a few years back are now beginning to sprout and grow.
We have another praise in connection with the Sunday school program. In Onthachimadam there is a family who lives across the road from where a satellite Sunday school is held. The children from this family usually crossed the road to come to the Sunday school. When my brother David and his wife Kathy were here this family wanted them to come to their house for a prayer meeting, which we did. Now because of continued contact by our preacher and prayer almost the entire family is now coming to church! The grandmother, who is actually younger than us, came to the front of the church this last Sunday to ask for special prayer for her son who is missing and that God would return him safely and that He would give them peace. This is almost unheard of that a Hindu coming to church asks for prayers in front of the whole congregation. And all this has come about because of the satellite Sunday school program.
When we ask for prayer for this program it's not just about small children! Entire families are impacted because of Sunday school programs here. For those young and old, eternity is at stake!

NO NEWS IS NOT GOOD NEWS
When we are waiting for word from the courts on our application for the adoption of Prashanth, no news is definitely NOT good news! We have had no word and really no way to find out any news, so it's just a waiting game. This is the toughest part for me--just not knowing. As soon as we know something we will definitely inform you about what is going on, but until then please continue to pray that God will work all this out.
FAMILY CAMP NEWS
We have finally reserved a camp site for the October family camp. We're going to a place in Trincomalee (about a four hour drive from here). We actually have used this camp site before and it works out fairly well.
Now our problem is finding other speakers besides me. Because of the October holidays here in Sri Lanka, many other churches have decided to have special programs at the same time, and most preachers are busy with their own meetings. Please pray for us to locate good speakers for the camp time.
PRAYER CONCERNS
Vacation Bible schools in the churches this month.

Prashanth's adoption process.

Praise for the impact the Sunday school is having on entire families.

Speakers for family camp in October.

God to send more workers into the harvest field.
JULY 2013

Dear Brothers and Sisters in Christ,
Happy Independence Day! One of the things we do miss from the States is fireworks on the Fourth. They do have them and use them on their independence day here, but not in our area. We do have lots of firecrackers (more like the old cherry bombs if you remember those), and they use them for all sorts of things--weddings, funerals, puberty attainment ceremonies, New Years Eve, and any other holiday they can think of. Rare is the day when we don't hear firecrackers being set off. But it's nothing like a good display of beautiful colors in the night sky. We have so many things to be thankful for and one is the freedoms we do enjoy in America. But freedom isn't free, there is always a cost attached.
The most wonderful freedom we enjoy is freedom in Christ! Being set free from the power of Satan and the condemnation of sin is the greatest thing we can experience, and not just one day a year. It also came at a cost--the precious blood of our savior Jesus. So many people around the world don't know about and have not experienced this freedom, and that's why we're here. Even with the difficulties we face we count it a joy to be able to serve our Lord and share his freedom with the people of Sri Lanka!
We are mindful that you are very much a part of this ministry through your prayers and finances. We thank God for you and your faithfulness to support our ministry. How wonderful it will be when one day you can meet these people whom you have helped to set free in Christ by making His word available to them. May God continue to bless and use you there as we labor together for His glory!
In our Heavenly Freedom through Christ,
Steve & Shanthi
VISA EXTENSION GRANTED
From past newsletters you are aware that I had to get a new passport and then have my visa extended. God was gracious to us by making all this happen. We traveled to Colombo and I picked up my new passport at the U. S. embassy, then it was off to the visa office the following day. I had all the necessary paperwork ready so we didn't have to wait long. The only problem was they wanted to wait seven days before giving me the visa. So we went back into the controller's office and shared that we had traveled from the Batticaloa area, and had left our kids at home, as well as the ministry work we needed to be doing. He agreed to issue the visa the following morning.
We arrived there next morning expecting a short wait. After four hours of sitting and occasionally going to the service window to remind them we were still there they finally came out with my passport and visa. When I looked at my visa I was really surprised as I had requested a one year extension, but they gave another two year visa! So we are praising God that he worked all these things out.
Thank you all for your prayers for this as this could have been a real trial and ordeal. Now here is our plan. As my original two years was to be up the end of January our goal was to be here at least that long. Since they gave me a full two years we plan to stay here a couple of extra months. This is so we get away from some of the cold weather there; I've become so accustomed to the heat I can't take the cold any more (Shanthi can't either so it's not just me).
Even though we want to get back home we feel we need to take advantage of the extra time God has blessed us with.

ADOPTION PROGRESS
We've been very anxious to get this under way. Due to a three week court break, and then another three weeks of the judge being too busy with other cases, our papers could not be filed at the court. Just a week ago the judge finally accepted the adoption application--note I said application, as this is only the first step. Nothing moves quickly here and this I'm afraid will be no different.
We are still in process also of trying to slowly explain to Prashanth what is going on. He has some idea but doesn't really understand the whole situation. He is somewhat confused, as sometimes he will write his name with his biological father's initial and sometimes with an S for Stephen (here they use the father's first name as the child's surname).
So there are actually two things for you to pray about; the whole process to go smoothly and as quickly as possible and for Prashanth to truly understand what this means as he will have to tell the judge this is what he wants, which is the law here.
V.B.S. PLANS
Plans for the V.B.S. programs in August for our churches are going well. The teachers' training will be held for two days in July. All the churches will use the same lessons, crafts etc. The preacher's wife in Koddai Kallar, Rani, along with two assistants will train all the teachers and helpers who will teach in the V.B.S. programs.
This year will be a three day program, but next year it will change to a five day program. Everyone is beginning to realize this is a valuable tool to not just teach the kids but to reach out to the entire family with the truth of the Gospel. Please pray for this outreach in August.
FAMILY CAMP PLANS
In October we plan to have our annual family camp. We still have not found a good location other than where we have been in the past, and also one of our speakers has had to cancel so we're trying to make arrangements with someone else. From these camps we are seeing deeper commitment on the part of the church members and more people getting involved in the work of the local ministry. Pray that God will use this camp in a way that he is glorified, and that people grow in their faith and are challenged to greater service.
WEATHER BRINGS MORE DOCTOR APPOINTMENTS
With it being hot one day and then cool the next mixed in with rain, we and our kids have had lots of trouble with coughs, sinuses and colds (not just us but everyone in the area). So we've made lots of trip to see the doctors and get medicines, but we're still not clear of all this yet.
PRAYER CONCERNS
Praise for my visa extension.

Pray for the V.B.S. programs in seven different church locations.

Family camp preparations and plans to go well.

Our entire family's health (with the challenges of the weather).

Adoption process for Prashanth.

Praise for seeing new growth in the churches.


JUNE 2013
Dear Brothers and Sisters in Christ,
This has been one of those months where we have been busy with lots of things going on, but mainly just the normal, routine type of things (if there is such a thing as normal). Seems there are always things to do, somewhere to go, problems to try to solve, and people to meet.
One of the exciting things that happened was we got rain and lots of it, very unusual for us this time of year. There was actually a cyclone which came through so along with the rain we had wind and cloudy days and cool nights for about three days. Nothing really destructive but blew down two of our banana trees (hated to see that) and it took the better part of a morning to clean the yard and haul away the mess.
We also found more charms but that seems to be almost normal anymore. Satan is always on the attack looking for weak places to strike, but God is good all the time!
We have received several notes and emails from folks there to encourage us for which we thank God (and you), and we ask that you keep us in your prayers. Our strength, health, and ability to minister depend upon God's faithful people lifting us up to Him.
We are also grateful for your support for us and the ministry. God always provides the resources for what we need to do and we are very blessed to have supporters like you who are faithful in their gifts. May God continue to bless and use you as you labor for his glory there in the U.S. as we do here in Sri Lanka.
In Christ
Steve & Shanthi
CHARMS BRING AN UNEXPECTED BLESSING
There is a family who lives in Onthachimadam--husband, wife and five children--who are distant cousins of Shanthi's. The father Arul is Catholic, the mother Komady is Hindu, which is not an uncommon thing here. We and others have shared Christ with them over the years and four of the five children have become Christians. Their oldest son became a Christian around 2005, and then another son about three years ago, and two of the daughters just accepted Christ last year. One son is abroad at the moment.
During the last couple of years Komady has suffered occasionally with health problems and such was the case a couple of weeks ago. She was so sick she could not get out of bed and even spent a few days in the hospital, but nothing the doctors did seemed to help. One leg was swollen badly and very painful so she could not walk.
A few months ago Shanthi's niece and her husband went to pray for them and found several charms on their property and in their house. But still Komady held to the Hindu gods. This time they called Shanthi's niece to come and pray again. They shared that it would do no good to pray for her as she was outside of God's protection from harm because she still held to Hinduism. The common practice is for them to tie a small cord around their wrist, the upper arm, and hang a medallion around their neck, which is about the size of a nickel and has a picture of a Hindu god on it. These are all symbols of their vow made to this god. She agreed she would change and they prayed and found a charm in their well. After finding it Komady took hold of the thread on her arm and broke it, removed the necklace, and took a knife and cut the wrist thread. They then removed all the pictures of the different gods they had in the prayer room in the house (almost all Hindu homes have a small prayer room in the center of their house) and broke them and burned them. The next day the swelling was almost all gone and she could walk again, and the day after they came to our house to visit.
This past Sunday they all went to church as a family! One other amazing thing to me was that on Sunday they went to the market and bought beef. This was the first time she had ever tasted beef in her life. Not only that but this all took place during a big Hindu festival which they would have normally celebrated as strict vegetarians.
It is amazing what freedom in Christ can do for a person! Komady has already been sharing what Christ has done for her with her neighbors! Please pray for Arul and Komady as they are just taking their first steps toward a real relationship with Christ.
HEALTH ISSUES FOR US
Shanthi had to see the doctor as she was having lower back pain which deteriorated to passing blood in her urine. After some antibiotics she is doing well now. They did an x-ray to check for kidney stones but it was not conclusive so she will go to the hospital again when the technician comes to Batticaloa to have a scan.
I've had some kind of viral flu (or something) which is still hanging on and seems to be going around the island. Hopefully by God's grace I can wear it out before it wears me out.
STILL NO WORD FROM THE COURTS
We wrote about our filing papers to adopt Prashanth the youngest of the kids of whom we have custody. Many of you have said that you are praying for a good outcome to this and we do appreciate it very much! We still have no word from the courts concerning the next step in the process so just keep praying for this.
VBS PLANS UNDERWAY
All the churches are doing a three day VBS program during the month of August. This is during the school term break.
We're doing what we've done the past couple of years in that all the teachers will receive training for lessons, hand crafts etc. from Rani our preacher's wife in Koddai Kallar. We have some nice lessons but they are in English. She (besides Shanthi) is the only one who can read and understand English so she translates the lesson material and teaches them what to teach.
This year though she has two assistants who will help with everything that needs to be done to organize the entire VBS program, which is no easy task for all seven church locations (the two new plants included).
PRAYER CONCERNS
More people to come to know Christ and for our coworkers to carry out the work of ministry.

Arul and Komady to grow in their faith and to fully trust Christ with their lives.

Our health and strength.

Prashanth's adoption to go through.

Renewal of my visa in June so we can stay the full two years.

Vacation Bible school plans in all the churches.
MAY 2013
Brothers and Sisters in Christ,
About a week ago we had to go to Colombo so I could renew my passport. This is so that I can extend my visa to stay here until next January (Lord willing this will all happen). Anyway I was thinking about citizenship and then began to write a sermon in my mind. This came to fruition this past week as I began a series of sermons in 1 Peter.
In the opening verses Peter addresses the readers as strangers in this world. Constantly here in Sri Lanka I'm reminded that I'm a stranger--I don't fit in here. So why is it that, if our citizenship is in heaven (Philippians 3:20), we are so content here on this earth? Why do we try so hard to fit in? Why are we so worried that we might offend someone by sharing the truth of Jesus Christ with them? Maybe it is because we really think this earth is where we belong. Maybe we need to remind ourselves more often that this world is not where we belong!
When life gets tough, and it surely does, remember that this is only temporary. Jesus said, "In this world you will have trouble, but take heart I have overcome the world". "This world is not my home I'm just a passin' through", as the old Gospel song says. If we could truly live that way the trials and trouble of this life become much more bearable!
One of the ways in which our trials are more bearable is in knowing we have Christian friends and family praying for us; how we need your prayers for us and this ministry! We thank you from our hearts that you pray not just for our safety but for people here to be impacted for all eternity by what we do.
Thank you as well for the finances you send that make all this possible. God will bless you for the blessing you are to us!
With Christian Love,
Steve and Shanthi
SEVERAL BAPTISMS
This past month there have been some baptisms in three of the churches. For these we praise our Lord! One of them was another niece, Ashobika, who lives in Trincomalee. Her father is Shanthi's brother, and her mother is still Hindu. We and her father had talked with her. This past weekend I was privileged to share God's word with her some more and then baptize her into Christ Sunday morning!
MORE TROUBLE WITH OUR VAN
When David and Kathy were here we began for some reason to have break downs with the van (it really wasn't their fault)! Even after they were gone it seemed that whatever we fixed would go wrong again, and something new would be added to the list of problems. On our trip to Colombo the van began over heating (a recurring problem), so we had to stop several times to add water. I took it to the Toyota dealer and they gave us some ideas and possible problems, but most of their suggestions we had already repaired. We left not knowing much more than when we went.
On the way home the overheating persisted and we made four stops to add water, and in addition the alternator belt broke. By God's grace we were just on the edge of a town and found a garage close by as well as a parts store two blocks away. After two hours to get the belts replaced, we started the van to continue home and then I heard another sound coming from the power steering pump. I checked the fluid and there was none. So we drove to the parts store and bought fluid. By the time we reached home the power steering fluid was gone again, and there was a pool of fluid under the van when we parked in the garage. The following Tuesday our mechanic in Batticaloa came to our house and took the van to his shop for more repairs. He thought it might be a bad head gasket.
During the week Shanthi's niece and husband had gone to Batticaloa to pray for some other family members. After their prayer time he said he felt God telling him to go to the garage and pray over our van, so they did. There was such a crowd around them there he felt a little strange doing this, but he did it anyway. After praying for some time he got down on the ground under the engine and continued to pray and God showed him a charm that had been attached to the engine in a place no one would see it.
The mechanic was shocked and said he had never seen anything like this before. He went on to say that during the time the van was there they kept smelling something like rotten flesh but couldn't find the source. He also said that while the van was in the shop he had no other business, which was very odd since he is actually the best mechanic in the entire area and he is always covered up with work to do.
Inside the wrapper around the charm was a copper plate inscribed with a small picture of the van, and a picture of hips and lower legs of a man (meant to be me). There was also ash and bone fragments from a cremation all wrapped around a steel nail which was corroded to the point it was hardly recognizable.
Only Shanthi knew that I had been having hip and lower back pain that would go down my leg, and David had left some pain patches for me to use. It had gotten bad enough that I was finding it difficult to stand up or sit as sharp pain would shoot through my hips and leg. I was living on ibuprofen, twelve to sixteen a day, which is not good in itself, but this didn't stop the pain. Within two days of finding the charm, the pain in my hip is almost gone (only two ibuprofen yesterday), and we are confident that the troubles with the van are now finished.
We have no idea who and when the charm was put on the van--that doesn't matter we just praise God for his unending love and protection. Again I can't explain this other than God uses people in different ways and even in ways we don't understand. I don't share this for you to add another "ghost story" to the list but to let you know we are in God's hands and that your prayers are needed.
Here are some things for all of us to remember from this:
Satan is powerful and will exert his power over physical things.

God is all powerful and will not allow Satan to have the victory.

Satan is our enemy and will do anything to try to discourage or destroy our testimony, joy, and ability to work effectively.

God will prevail and the weapons Satan uses become powerless in the name of Jesus Christ.

The prayers of God's people are essential for us to continue to work.
I didn't mean for this to take the entire newsletter but I guess it did anyway. I just felt you needed to know so you can praise God along with us!
PRAYER CONCERNS
For our co-workers in the ministry to carry out the work of evangelism and disciple making.

For more people to come to know Christ.

For God's continued blessing and protection on us, our family, co-workers, home, and van.

Vacation Bible school which will be in August and the plans for it.



APRIL 2013

Dear Brothers and Sisters in Christ,
I'm writing this a few days before the end of the month so Easter has not yet occurred, but we pray you will have a glorious Resurrection season!
I recall when growing up we did several things to celebrate the season. There were Good Friday services with the other churches in town to remember what our sins cost. Coloring and hunting for Easter eggs was always fun, although it could be a little frustrating at times for mom when an egg wasn't found right away. Usually we would get new clothes to wear to church. Sunrise services were hard to get to on time for the Bycroft bunch, but then the church served breakfast afterwards. I can't remember what we would eat but we always had fun. Then we would stay at church for worship, but Dad usually went back home to do some more chores on the farm. What I remember most was the importance placed on what took place long ago when the tomb of Christ was found empty! This is what gives us joy as we can know with confidence we too will be raised to live forever with Him!
Shanthi and I celebrated our anniversary this past month. Thanks for the cards and emails! We didn't do anything really special but did have cake and ice cream that night (I'm always up for ice cream). The way I see it, any celebration can always be made better with ice cream!
We want to thank you again for your prayers and support for this ministry. We praise God for you and for how He provides for us through your generous gifts and how He leads and protects by our combined prayers! It is a comfort and blessing to know others of like mind are praying for us.
We pray that God will bless and use you where you are to his glory!
In remembrance of the cross,
Steve and Shanthi
TRYING TO GET BACK TO NORMAL
It was a real blessing for us to have David and Kathy here, but the time went so quickly (except when the van broke down, long story but God was with us through it all). Then after they left we had an empty place in our hearts and home too. We're already looking forward to when they can come back, or maybe someone else to come for a visit.
People are still talking about what David and Kathy shared and we know the teaching they gave had an impact on the people's lives. Thanks to all who had a part in their coming, especially Tyro church for lending them to us for a few weeks. They were an encouragement to us as well to continue pressing on in the work of the kingdom for Christ's glory.
Now it's back to normal--well as normal as things ever get here.
Speaking of normal our weather hasn't been. After they returned to the States it began to rain again and we've had several days this month with heavy rain. Today though we are seeing normal as the sun is shining and it is hot and humid. I went to buy beef this morning and the shop keeper asked if I had just taken a wash. I was a little confused until I looked at my shirt which was pretty much soaked already at 8:30 in the morning. I also bought eggs to color to keep the tradition going with our kids (they love it)!
One other unusual thing is we have been asked to speak at a Good Friday assembly at the school. This is a first as it is recognized as a holiday in Sri Lanka but we've never had any kind of program at the school before. Easter on the other hand is never mentioned.
CRUSADES PART OF EASTER CELEBRATION
Three of our churches are having three day crusades during the Easter season. Onthachimadam and Koddai Kallar are working together on meetings the 29th, 30th, and 31st of March and Periya Neelavanai church April 6th, 7th, and 8th.
I'm not much of one for crusades here as most of the people who come are ones from other churches (very few non Christians attend). Both churches have put quite a lot of time and effort in preparations, hand bills, posters, etc. so hopefully this time it will be different! We do ask for your prayers for meetings that hearts will be changed!
FAMILY CAMP POSTPONED
We originally planned to have family camp during April school term break but due to not being able to secure a camp ground that was reasonable and also not being able to line up speakers we decided to postpone. Now we are planning for October as there will be two holidays one day apart toward the end of the month, so hopefully we can get things to work out for then.
COUPLE DESIRES TO JOIN WITH US
This past month a couple came to our home wanting to discuss the possibility of working with us. They are actually about our age but have only been in full time ministry for a few years. They currently have a small church they have planted about 35 miles from us. We have been discussing expanding the ministry away from this area but don't know if this is the direction we need to grow and go.
They seem very committed to the work and both were very excited about the weekly training programs that we do for the preachers, staff and Sunday school teachers. They never had any formal Bible school training so were happy to hear of the things we do.
Please pray along with us for God's guidance and His will as we consider working with this couple and their church.
PRAYER CONCERNS
God's blessing on the crusades that lives will be changed by the messages.

For our preachers and co workers to continue faithfully in the work of the kingdom.

The couple who desires to join us and wisdom for us about this decision.

VBS will be here soon and will be in August again.

Continued health, strength and wisdom for us to do all God desires us to do.

Court Date for adoption of Prasanth moved to April 2.
2012 Financial Report
Income
2012 Support (General Fund) $105,243.19
2012 Interest $14.54
Total 2012 Income $105,257.73
Expenses
Office: Misc & Supplies $2699.13
Office: Postage $833.48
Office: Telephone/Internet $782.15
Office: Bank Charges and Wire Fees $294.09
Total Office Expense $4608.85
2012 Payroll: National Evangelists $10,110.00
2012 Payroll: Stephen Bycroft $33,000.00
Total Payroll Expense $43,110.00
2012 Travel Expenses $4089.14
2012 Property Tax $42.72
2012 Special Project Expenses:
Christmas Project $5000.00
Purchase Land for New Church $30,000.00
Construction Costs for Church Buildings $37,148.92
Total Special Projects $72,148.92

Total 2012 Expenses: $123,999.63

MARCH 2013

Dear Brothers and Sisters in Christ,
Here we are in March and I'm late with the newsletter, so life goes. We do want to wish you all a very happy and blessed Resurrection season! This is the most wonderful time of year as we celebrate our forgiveness and our confidence in our Savior Jesus Christ!
David and Kathy arrived without any problems after their time in India, and have been busy ever since. Their coming has been a real blessing to us and our ministry here! The biggest problem was trying to fit everything we wanted to do into the short time they have been with us.
We've had beautiful weather this month, our normal February, only last night and today it is raining but we could use the moisture.
We have been blessed by you, by your faithful prayers for us and the ministry and financially as well. When I read about the economy in the States and the seeming lack of progress, we understand the sacrifices you make to send it for the ministry, and the need to get the most out of the money we are sent. We thank God for your generosity to the ministry and pray that He will indeed bless you for blessing us.
Please continue to lift us to the Father for strength, health, guidance, and in all things to glorify Him!
Yours in Christ, Steve and Shanthi
A BUSY MONTH
When David and Kathy arrived they hit the ground running. They have had a real impact on our preachers and wives! They arrived in Colombo on Friday, we drove to Koddai Kallar on Saturday, and then David preached on Sunday morning.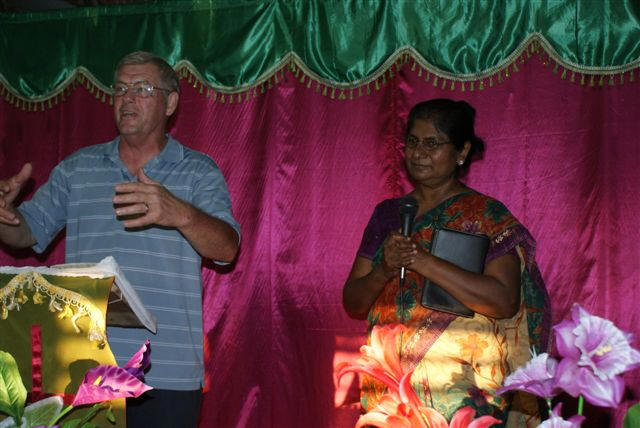 On Monday both David and Kathy shared with our Sunday school teachers during their normal training session for teaching the following week's lesson. Tuesday was staff meeting and David shared the Bible lesson. Then we had a two day staff retreat covering many different topics, one of which was on forgiveness. This is something we all need to hear and put into practice, but in Sri Lanka this culture is not one to ask for forgiveness. After the retreat every one of our preachers gave testimony of how God's word had touched them and each one had a story to tell of people they had gone to and had asked for forgiveness. The word of God is powerful!
David and Kathy both shared during a day long Poya (full moon) Day Youth Program at the Onthachimadam beach. We had all the youth from our churches invite their non-Christian friends and had 175 attend (including staff members). We were thrilled as we saw lots of new faces in the crowd, and young people who had become inactive for some time came for the program. We served lunch and that afternoon the young people played games for a couple of hours.
David and Kathy also shared in preaching in all five churches, the last two Sundays in two churches each morning. They went to home prayer meetings in different places and taught and encouraged the believers and planted seeds in others' hearts.
Kathy taught our Sunday school teachers some basic crafts and left us a huge trunk load of craft materials, most of which we can't get here. She even taught them how to make "home made" play dough, and they all loved it!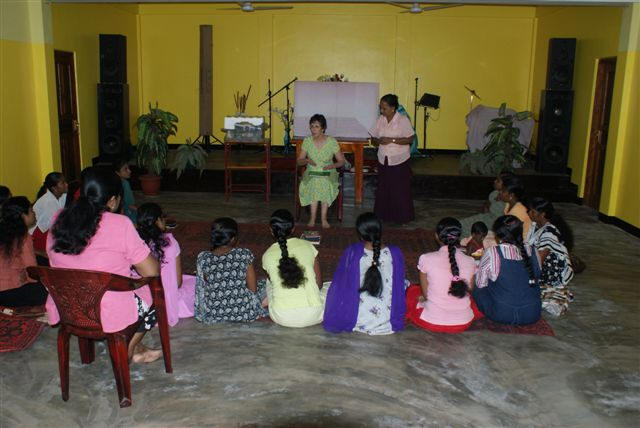 This is but a small portion of all David and Kathy did while they have been here--we're going to hate to see them go!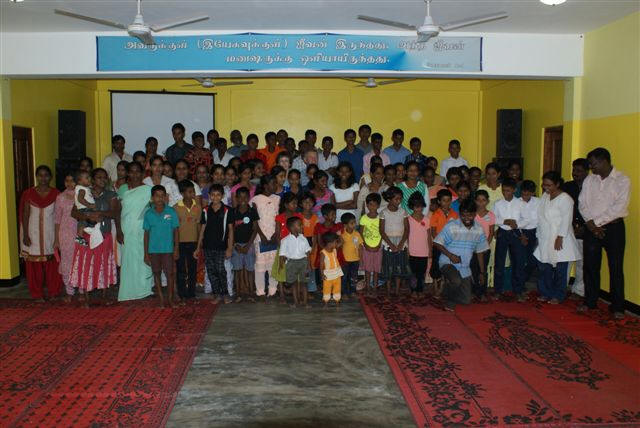 NEW CHURCH PLANT
Our preacher Vijay at the Periya Neelavanai church has begun a small house church in another town Samanthurai, which is about twenty miles from his church. This is predominately a Muslim town but there are many Tamils living there too. Right now it is a large family (grandmother, two adult daughters, and I think about six teenagers and children) but just last Sunday David baptized their teenage daughter.
This family was travelling from Samanthurai each week for Sunday services to Periya Neelavanai but had to take two different buses which took an hour or more one way, depending on bus times. This was a large expense for them as they are not wealthy, and the older boys can't find jobs. After much prayer and discussion they decided to try to plant a church there from their home.
Vijay will drive there three Sundays each month early Sunday morning to hold a worship service in their home, and then return to Periya Neelavanai to have the regular service there. The fourth Sunday the family will travel to Periya Neelavanai to fellowship with the other believers. Pray that this new church plant will grow in number and that God would provide someone who will take this ministry on full time.
DEDICATION OF NEW BUILDING IN PERIYA KALLAR
We were able by God's grace to make some modifications to the building this month and the first services have been held at the new (and Lord willing permanent) location for the church at Periya Kallar.
We removed a couple of walls to enlarge the area where the church will meet and poured concrete columns and beams to support the roof. This was not an ideal situation, but it will work for now until the church grows more. We held a dedication service which was attended by an overflow crowd with several standing outside looking in through the door and windows.
This didn't come at an opportune time for us as David and Kathy were here during the same time the work had to be completed, but God blessed and everything necessary for the moment was done.
PRAYER CONCERNS
For God's blessing on David and Kathy as they return to the States.

For everything taught from God's word to continue to work in the hearts of the staff and church members.

New church plant in Samanthurai to grow and for a preacher to take on this work.

God's continued blessing on the Periya Kallar preacher and wife as well as the church to work to grow that congregation.

For our continued strength and wisdom to lead in the churches and to encourage our preachers.
---
FEBRUARY 2013
Dear Brothers and Sisters in Christ,
The New Year is not so new any more--where has January gone! Lots of things have happened this past month which made the time seem to slip past even more quickly for us.
Our monsoon season has been very different than normal. Lots of rain early, then nothing. It even got hot for several days with lots of sunshine. Then more rain for a few days and then hot and dry. Now for the past several days we've gotten heavy rain once again, but normally it is tapering off by now. In fact there has been lots of flooding throughout our area recently.
Regardless of the weather we are constantly reminded of how short the time is before "time" is no more! We see so many opportunities, but for lack of harvesters we are unable to send them into the work. This is why Jesus told us to pray for laborers to enter the harvest. It doesn't matter if it's the States or Sri Lanka, there is an urgency to send out laborers into the harvest!
We thank you again for your prayers and financial support for us so we can help to equip more workers here, which means more people are able to hear the truth of Jesus Christ, not just about another religion! We pray for you and thank God for your faithfulness to this ministry and we do covet your prayers for the work here. May God continue to bless you as you labor for him wherever you live.
Love in Christ, Steve and Shanthi
WATER, WATER EVERYWHERE
One of the projects this month, although somewhat unexpected, was distributing food stuffs during one of the times of heavy rainfall.
It had rained for about ten days and since many of our church members are laborers, masons, carpenters, and laundry men they were finding it difficult to buy daily necessities. With it being right after Christmas the churches' funds were also too low for them to purchase the food items, so we took it upon ourselves to help.
With a crew of about ten people (both family members and church folks) we spent four days purchasing, bagging and distributing food items for these needy families. We distributed 1,200 lbs. of rice, 275 lbs. of lentils, 560 lbs. of sugar, 180 cans of fish, 60 lbs. of tea, 100 lbs. of soya, and 180 packages of dry milk. All this cost about $1,530.
Then it was off to all the churches to distribute everything. We had the people come to their local church where we handed out the bags. We gave according to the family size--larger families getting more. To be honest some families didn't really need much help but in order to be fair we gave to everyone. We also gave to the Sunday school children in the two new villages where we are planting churches. This project took up much of a week from beginning to end.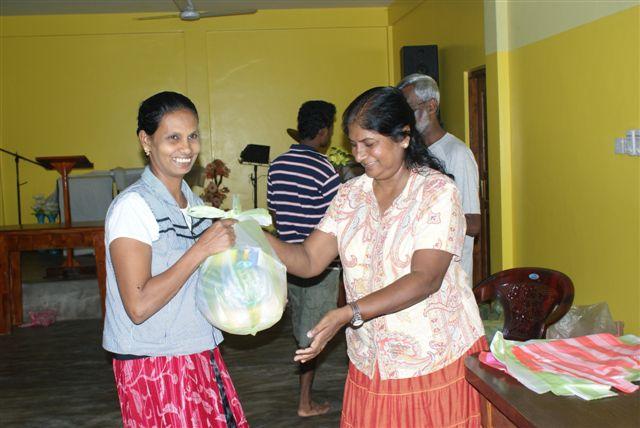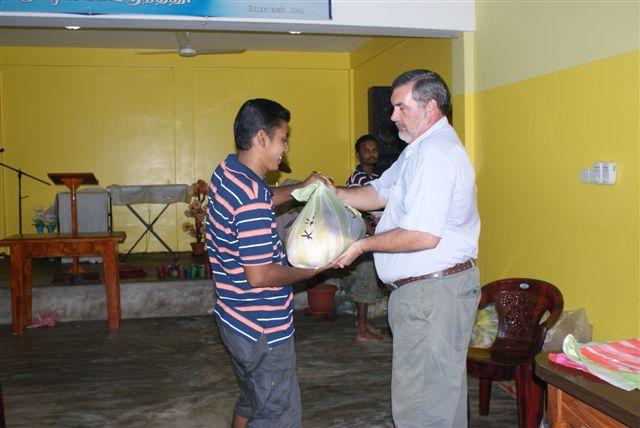 Steve and Shanthi at the Koddai Kallar Food Distribrution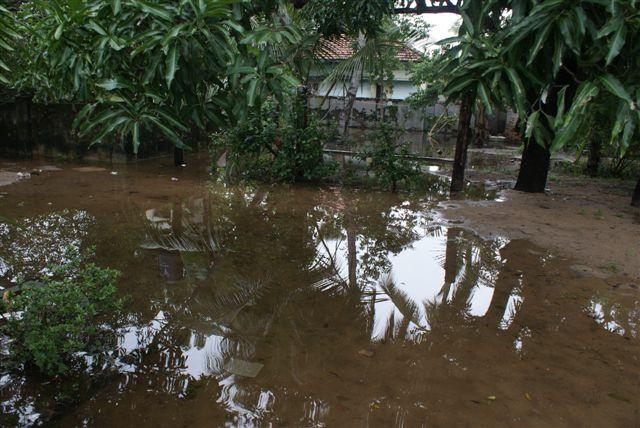 Flooding at Periya Kallar
HIGH WATER CANCELS PROGRAM
On two Saturdays each month we have a training program at two of our churches, Mahiloor and Periya Neelavanai. This is a three hour study for training and encouraging people to be involved in different areas of ministry, but especially evangelism. One of the big hurdles that must be overcome is the idea that the preacher has to do everything. That's just the way church is supposed to be, right?
This past Saturday we were to go to Mahiloor, but halfway there due to three days of heavy rain (and the government had also opened flood gates at several reservoirs), the road was flooded to a point we couldn't get through. We waited as a motorcycle tried to get through but when he got to the deepest point it was halfway up on his engine and it flooded--there he sat in knee deep water.
Due to the air intake being set low on the van there was no way I was going to attempt to go through. So as I turned the van around Shanthi began calling everyone we could think of to notify them we couldn't make it. People from Mahiloor were already at the church as well as a few from the Onthachimadam church.
For us to take a different route would have consumed over an hour. We've done this before, and there is no guarantee that the other roads are not flooded also, so we decided to cancel instead. This is one of the frustrations we have to deal with but there's not much we can do to avoid these kinds of things.
PREACHERS SET GOALS FOR 2013
Every year we take a morning during staff meeting for the preachers to share their goals for their churches. This includes disciple making, young people to send to Bible College, and evangelism goals. They now understand that unless they set a goal the time disappears and little has really been done to advance the Kingdom work in their location. It's taken several years to get through to them the importance of setting goals.
We then address them on an individual level if there are things we think need to be changed. For example, one worker was going to share the Gospel with 60 people and win 50 to Christ. While I wish this would happen, in reality it doesn't, so there were some amendments made to the goals.
We shared with them what it takes to succeed--praying as if it all depends on God and working as if it all depends on us. Then they will be successful in achieving the goals they have set. Please continue to pray for all our workers to fully commit themselves to the task.
FAMILY CAMP IN THE PLANS FOR SPRING
We are beginning the plans for family camp again this year, most likely in April as that is when the school term breaks. It seems we just finished camp and it's time to have another.
We do see much good and growth come from these camps so it is worth the effort even though it wears us out. Pray for there to be more spiritual growth this year.
PLANS FOR DAVID AND KATHY
We and the preachers are excited that my brother David and his wife Kathy are coming in February for three weeks. Our preachers had made so many plans that David and Kathy would have been going 24/7 all the time they were here, so we made some changes. We truly are looking forward to them being here to work with us! Pray for them as they travel to India first and then come here, that God will use them to instruct and encourage.
HELP TO A FAMILY
One of the believers from the Periya Neelavanai church asked us to help them with an eye surgery for their little girl. The husband comes to church occasionally, but the wife is a faithful believer. He is a laborer and so they have just enough to make ends meet, but not enough for the expenses to take the child to the hospital for the surgery. The eye hospital is in Colombo and the surgery itself is free for them, but all the other expenses (travel, food, and lodging while there) they couldn't begin to pay for, so we are helping them to get this done. Pray for the father to see the love of Christ through this act and to accept Jesus, and also that the surgery will be successful.
PRAYER CONCERNS
Our preachers and workers to "do the work of an evangelist".

God to continue to bless our efforts in establishing new churches this year.

Spiritual growth from the Family camp in April.

David and Kathy, for safety, health, strength for the work, and God to use them to encourage the churches in India and here as well.

Wisdom for us as we lead in this ministry and God to use us to his glory.
---
JANUARY 2013
Dear Brothers and Sisters in Christ,
Another year has passed and a new one has begun, but as I type this I'm still listening to Christmas music. We had a very busy but joyful Christmas season. It was a time of rejoicing as we saw God moving in the hearts of people. Already we know there will be many challenges ahead in this year but with God's grace and power we will be able to overcome any obstacle Satan places in front of us, so there will also be many victories! There will always be trials in this world but Jesus said, "Take heart for I have overcome the world"! Please continue to pray for this ministry as we look to God our gracious Father for guidance, strength, and wisdom.
As this New Year begins we pray that God will prosper you in every way! Your partnering with us in this ministry has affected many people for Christ throughout the years by your faithful prayers and support. We cannot overemphasize the need for prayer! You may never know how your prayers have had such a powerful effect until we all reach heaven. Then you will meet people who came to Christ because you were praying! Please keep praying for us and this ministry throughout this New Year.
May God bless you as we labor together for his glory!
Steve and Shanti
DECEMBER 21, 2012
As far as I can tell the world did not come to an end on that day! Even though it was "debunked" prior to the actual day it still raised lots of questions and even fear in many people's hearts here. We heard one story of a lady who spent the night sitting in a chair in the street watching the sky awaiting the end to come.
This "non-event" did give us several teaching opportunities, even among some Muslim shop keepers I know, as they would ask me what I thought. So since they asked I'd tell them what Jesus said, "No man knows the day or the hour", and then proceed from there to share and plant some seeds. The Koran even speaks of the second coming of Jesus to earth but Muslims do not see him as the Son, but only as a prophet of God. As a result of this I was thanking God for the Mayan calendar since it gave us opportunity to share the truth of God's word.
MUSLIM FAMILY ATTENDING CHURCH
In the Periya Neelavanai church a Muslim family has begun attending services and even came for the Christmas program. This was another case of "charms" (similar to what we have been undergoing) that had been done against them and their family. None of the Muslim leaders could do anything to remove or lessen the affect this was having on the family. By world of mouth they heard of our preacher Vijay. The husband has gone abroad to work so the lady had contacted him to see if it was okay for Vijay to come and pray and the husband actually agreed.
So Vijay and Ananthy went to their home and prayed for them and the power of the charm was broken by the power of Jesus! Now this lady and her family are coming to church every Sunday and she made the statement that even if they kill her she will now follow Jesus Christ. Please pray for this family as they grow in faith to remain faithful to the One who can deliver.
PREACHER HAS MOTORCYCLE WRECK
Our preacher Sydney, who works in Koddai Kallar, had a wreck on his motorcycle a couple of weeks ago. He was not seriously injured but was banged up with lots of scrapes and small cuts. It could have been much worse as it was a small bus that hit him while he was making a turn. God was watching over him as he very easily could have been killed. Please pray for Sydney's quick recovery.
CHRISTMAS PROGRAMS GREAT SUCCESS
All seven of our church programs were very well attended this year. But it was somewhat different than in years past since there were more adults who came to the programs. We always have lots of kids and a few parents come, but this year in every program there were more adults than before. We attribute this to lots of prayer before hand, maybe even more than years past, that God would work in the parents' hearts to come and hear the Word in song, story and Scripture. And only one program had rain which was a real blessing as well!
The two new church plants in Eruvil and Kirumenvely each had their first program ever, and both were well attended. I've included snapshots from some of the programs, and as I can't put all the photos in the newsletter please visit our website (above) to view all the pictures I took.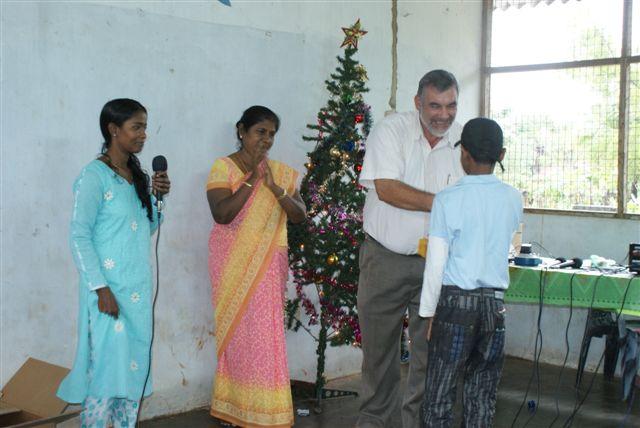 Steve, Shanti, and Pushpalogini "Gifting" to Our 100% Attendees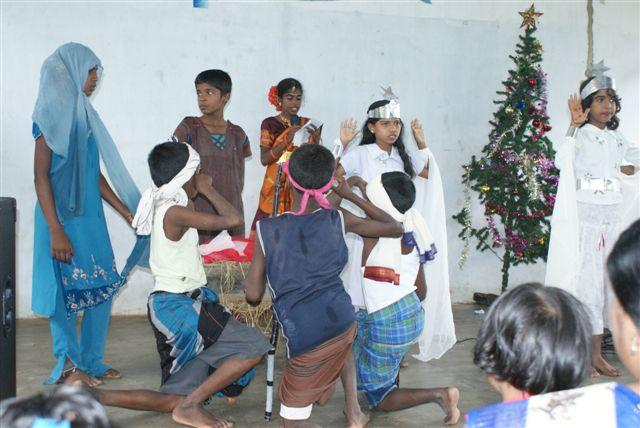 Children Portraying the Nativity
We have mentioned before that Christmas is always a big push for our churches as this gives opportunities for the preachers to get into the homes to share more of the love and word of Christ with the families.
We thank and praise God for your response to give toward this so we could provide gifts to all the children who came to Sunday school. God will bless you for that! We gave them clothes as we mentioned last month (which they look forward to receiving). For the first time we also gave a special gift of school books to the children who had 100% attendance, which is a big expense for the families. These children were recognized at the beginning of the "gifting" portion of the program so that everyone could see how they were honored for the faithful attendance. As always we wish there had been more but over all we were pleased. Hopefully this will encourage others to be more faithful this year.
We also hosted a lunch for the staff and Sunday school teachers on December 23rd after worship services, and gave them a gift to say thank you for their work in teaching and visiting the kids all year long.
Please pray that these children will continue to attend and grow and that the parents will be reached with the Gospel!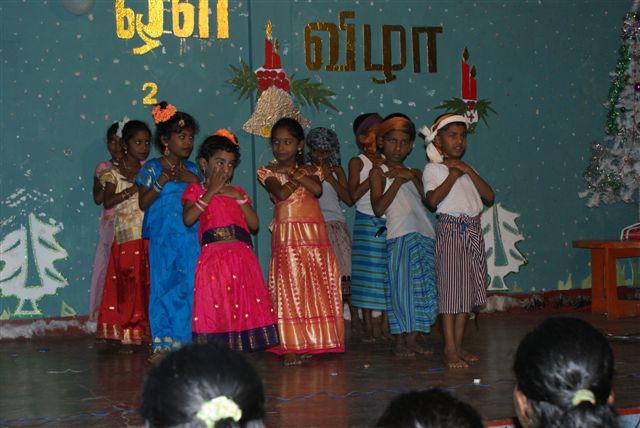 Our Children's Choir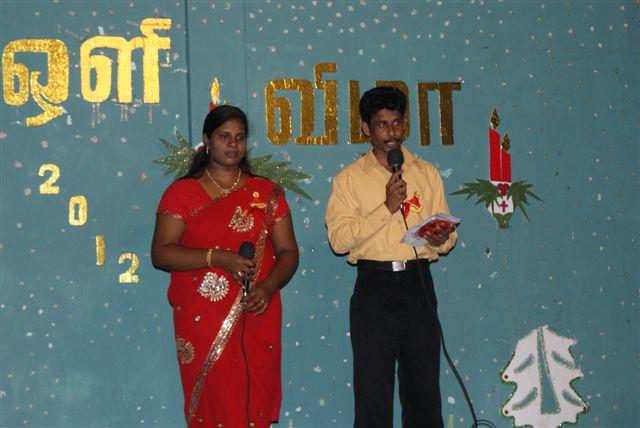 Pastor Selva and His Wife Thevi Teaching the Christmas Story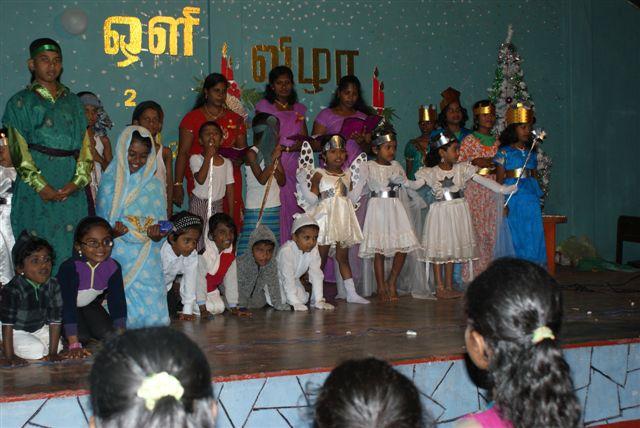 The End of the Program! <More Photos>
LOOKING FORWARD TO FEBRUARY
As I mentioned last month my brother David and his wife, Kathy from Tyro, Kansas will be coming here in February to see and to help us in the ministry for three weeks. They will be the first of my family to come for a visit. We, along with our preachers, are truly looking forward to their arrival! We are still in the process of figuring out what and how to do things with them. They want to be used but we don't want to kill them with overloading the schedule.
Shanthi will need lots of prayer too as she will do most of the translating for teaching and preaching. Another friend, Pastor Jeya, had agreed to help but he just had angioplasty on two arteries so we don't know how much he will be able to do at that point. Pray for him that he will be fully recovered and able to help during that time.
PRAYER CONCERNS
Praise for the good Christmas programs and for hearts to be touched with the message of Christ.

Praise for several families who now believe in Christ because of how He has worked in them.

For the preachers and works to do the follow up on the parents of the Sunday school children.

Sydney's complete healing and recovery from his wreck.

For David and Kathy to be used by God while they are here, and wisdom on how best to use their abilities.

For Shanthi and Pastor Jeya as they translate for the teaching and preaching.

Lamplighters World Ministries primary goal is to go to countries where the gospel has not been preached, or limited work has been done to establish Churches in those countries. Founders Steve and Shanthi Bycroft work with the people of Sri Lanka.


Lamplighters World Ministries, 2641 East 6th Street, Joplin, MO 64801-1636, USA
Email: lamplightersworld@att.net Ph. 417-624-7078 Fax: 417-624-7085
Copyright 2009 Lamplighters World Ministries